We did proceed with an abdominal ultrasound for Caramel. For your reference, this is the appearance of a normal kidney on ultrasound: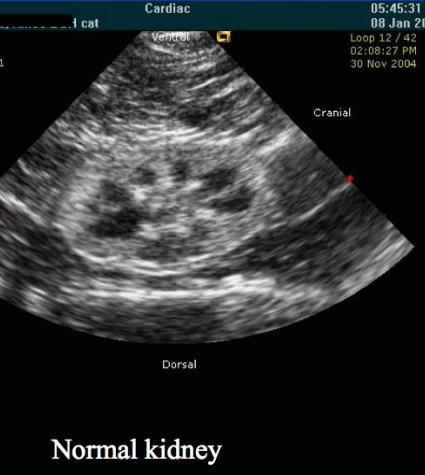 Here are the images of Caramel's kidneys as viewed on abdominal ultrasound:
Abdominal ultrasound confirmed that Caramel has Polycystic Kidney Disease (PKD).
A little about PKD:
- This condition was identified in the 1960's in Persians and related breeds
- Some cats will go on to develop chronic renal disease, at an average of 7 years of age
This condition also occurs in humans:
Genetics and heritability play a role in this disease.

There is a PKD1 and Identity Marker test available that can indicate whether a cat has or will develop PKD (due to presence of PKD1 gene).
So ... regarding Caramel: what would be your plan and recommendations? Login and comment!