<< VetVine® Virtual Pet Loss Support Services


Virtual Pet Loss Support Group Facilitators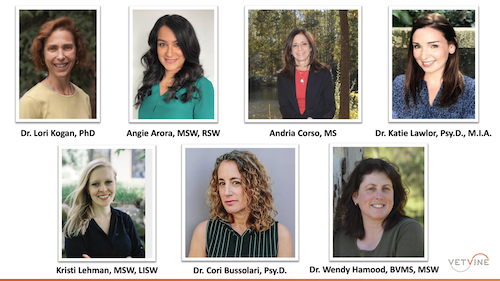 Lori R. Kogan, PhD serves as Consultant to the VetVine® Virtual Pet Loss Support service. Dr. Kogan is a licensed psychologist and Professor of Clinical Sciences at the Colorado State University (CSU) College of Veterinary Medicine and Biomedical Sciences, Director of Human-Animal Interactions at CSU, the Editor of the Human-Animal Interaction Bulletin as well as textbooks including 'Pet Loss, Grief, and Therapeutic Interventions: Practitioners Navigating the Human-Animal Bond', 'Clinician's Guide to Treating Companion Animal Issues' and 'Men and Their Dogs: A New Understanding of Man's Best Friend.'
Angie Arora, MSW, RSW is a Professor with Seneca College's Social Service Worker Program and a Veterinary Social Work Consultant with over 15 years experience in the areas of pet loss bereavement and compassion resiliency. Her experience has included working in the veterinary hospital setting in which she provided end-of-life decision making support, emotional support during and after euthanasia, information and support to help parents communicate about death with their children, as well as short to long-term counselling through telephone, electronic and in-person methods. In addition, Angie has facilitated numerous pet loss support groups in community settings.


Andria Corso, MS has a Bachelor of Arts in Organizational Psychology, a Master of Science in Human Organizational Science, and is currently pursuing her Ph.D. in Research Psychology. Andria is a Certified Life Coach and an animal advocate with over a decade of experience in supporting individuals dealing with pet loss and grief as well as a host of other emotional issues. With over two decades of experience working in the world of animal rescue and adoptions, she currently serves a Board Member and Director of Adoptions of Basset Rescue of Old Dominion.


Kristi Lehman, MSW, LISW is a licensed social worker with nearly a decade of experience working with veterinary teams and directly with pet owners in a grief support role. Kristi is a professional speaker and has presented at local and international conferences on topics including grief and loss, client support, and compassion fatigue. She serves as Vice President of MN Pets / DVMCenter and is former President of the Board of Directors of Shih Tzu Rescue of Minnesota.


Wendy Hamood, BVMS, MSW is a veterinarian with over 30 years of experience. She initially worked for many years as an associate veterinarian in clinical practice. In the later years of her career she left clinical practice to work in academia as a Lecturer at the School of Animal and Veterinary Science at The University of Adelaide in South Australia where she continues to work part-time. Wendy earned a Master of Social Work in 2019 and has co-authored a publication and presented on the topic of grief in the veterinary practice setting as well as the impact of dealing with bereaved clients.
Cori Bussolari, Psy.D. is a licensed practicing psychologist and an Associate Professor in the Counseling Psychology Department at the University of San Francisco. She has published articles in numerous journals and edited books on the topics of grief, specifically pet loss, chronic illness, and positive coping. Cori has 15 years of practice experience and has served as Facilitator of the San Francisco SPCA Pet Loss Support Group for the past 5 years.