Pruritus is a common finding in dogs and cats, and is often associated with an allergic condition. Three of the top four causes for pruritus in dogs are associated with allergy - including allergic food reactions, atopy, and flea allergy.
Pruritus often precedes the development of some of the more classic lesions that we can attribute with various conditions. For example, we know there are certain patterns of distribution for alopecia (or other lesions) associated with various etiologies: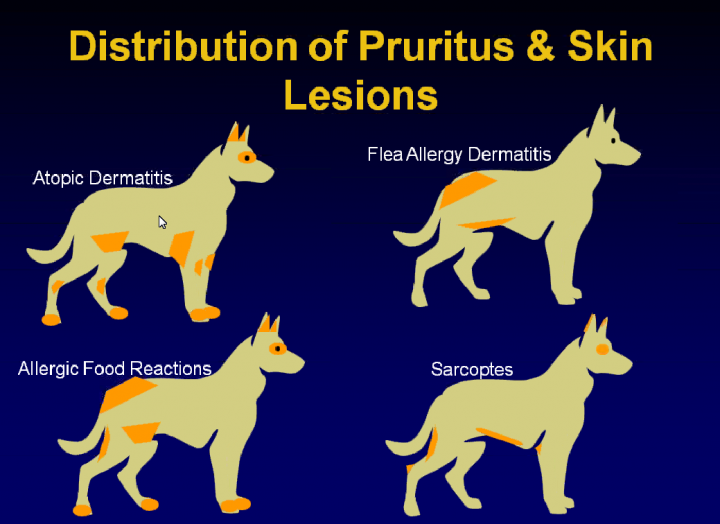 Photo credit: Craig Griffin, DVM, DACVD
In the case of canine atopy, pruritus may be a complaint before hair loss associated with self trauma or other lesions are noted. In addition, patients may exhibit other signs including sneezing.
Gastrointestinal signs including vomiting, diarrhea, and changes in stool character and frequency are commonly seen in patients with primary GI problems (ie. inflammatory bowel disease). However, GI signs can be associated with other problems including food allergy or adverse food reactions.
Little has been reported on what is "normal" for frequency of bowel movements in dogs. Information from previous studies is conflicting regarding what defines "normal." Furthermore, little is known regarding the correlation (if any) between GI signs and pruritus in dogs with food allergy or adverse food reactions.
In this week's Evidence Based Update, we discuss this topic and a paper from Veterinary Dermatology on the correlation between pruritus and gastrointestinal signs in healthy dogs. Discussion includes:
Use of a clinical scoring scale to evaluate pruritus in veterinary patients and how this can help clinicians better assess their patients

Accuracy of client assessments of their own pet's pruritus

Use of a clinical fecal scoring system in dogs

The effect of exercise on fecal scores

Normal frequency of bowel movements in dogs

The significance of scooting as a client complaint

Effects of supplements - including probiotics and fish oil - on pruritus and fecal consistency scores in dogs
View this Evidence Based Update (Running time 20 mins; Approved for CE credit in New York and by the NJVMA, pending approval for CE credit by AAVSB RACE).