After a diagnosis of cancer is made, the staging of that patient's cancer is helpful for determining whether it has spread (metastasized) to other organs, or whether it is localized to the area of its origin. This information provides the veterinarian a comprehensive picture from which a prognosis and treatment options can be made that are individualized for that patient.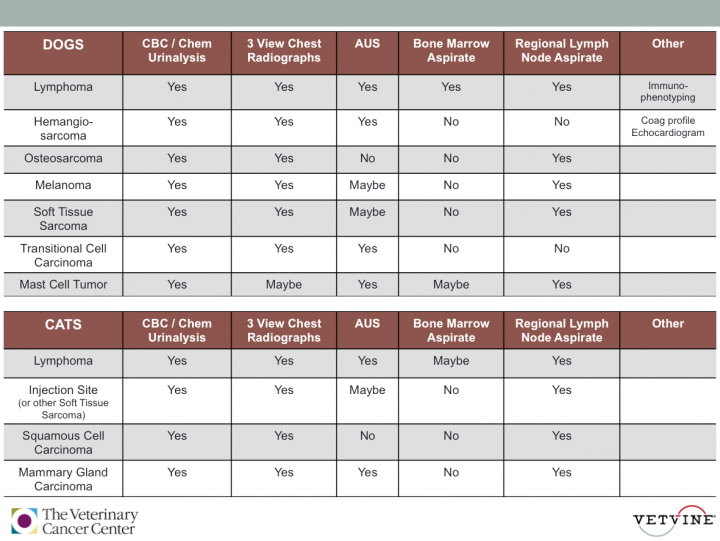 Staging Tests Commonly Performed
CBC - Complete Blood Count


Prior to chemotherapy treatment for any cancer type, it is necessary to confirm that a patient has enough red blood cells, white blood cells and platelets to safely receive the treatment.

Additionally:
Lymphoma - some patients will have evidence of cancer cells in the bloodstream; Cell counts can be low if there is bone marrow involvement.

Hemangiosarcoma - Some patients may develop changes in the appearance of red blood cells; Some patients can become severely anemic, thus requiring blood transfusions as part of their treatment.

Mast Cell Tumors - Some patients can develop anemia (low red blood cell count); Occasionally there can be decreases or increases in certain cell counts; Mast Cells seen in the circulation can suggest bone marrow involvement or a systemic disease (Mastocytosis).



Chemistry Panel


Evaluation of internal organ function (especially liver and kidneys) is essential prior to starting any chemotherapy treatment plan. Abnormal test results can be suggestive of abdominal organ involvement.

Additionally:
Lymphoma - This cancer commonly invades the liver, and can also affect the kidneys and gastrointestinal tract.

Hemangiosarcoma - Internal organ dysfunction can be indicative of metastatic disease.

Osteosarcoma - Some patients can have an elevation of ALP (alkaline phosphatase).

Immunophenotyping




In patients with

Lymphoma, this testing helps to determine the type of lymphoma present (B-cell or T-cell). This is important for guiding treatment options and creating a prognosis for the patient with lymphoma.



Echocardiogram


This is not a commonly performed staging test except in cases where cardiac (heart) Hemangiosarcoma is suspected. In 9-25% of patients with splenic (spleen) hemangiosarcoma, there can also be heart (right atrium) involvement. This test can help to guide the best course of treatment and assess risks in these patients.
Contributed by: The Veterinary Cancer Center