<< VetVine® Virtual Pet Loss Support Services
These are just a few of the many sweet souls who have been remembered, and whose lives have been honored, in one of our Pet Loss and Grief Support sessions.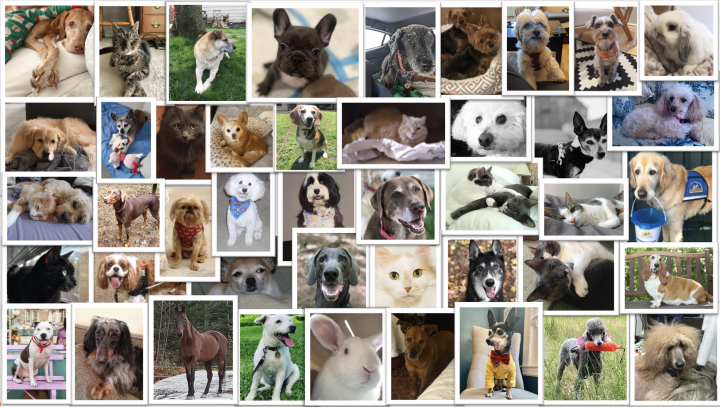 We thank those past Group participants who have shared their feedback about the VetVine Pet Loss Support Service experience. These are their words ...


- "... Excellent facilitator and I enjoyed the peer group process. I was able to share the stories of the love for my pet and grief and guilt over her death in a safe and non-judgmental environment. I will return for another session." - November 10, 2021


- "When I attended VetVine's Group Support session I had been without Georgie for about 7 months. Georgie was my absolute soul mate. A piece of me genuinely died when we had to say goodbye. When I first lost him, I was outwardly mourning for months and turned completely inward. I found myself consciously blocking my thoughts and memories of my sweet boy because it was interrupting my daily life so significantly.

It wasn't until my session with VetVine that I realized how damaging that might be to my healing. VetVine reminded me that I can assign a time and place to cry and deeply grieve regardless of how much time has passed. Sometimes when I find myself tearing up or going into a dark place (where the timing might not be appropriate), I remember my group session and have a bit more control. Angie's words really stuck with me and for that I am grateful." - October 15, 2021

- "Kristi was great and it was a wonderful experience." - August 31, 2021


- "Hearing of another's experience was helpful." - August 31, 2021


- "Brian my facilitator did a really nice job listening, validating and offering ideas to manage through this tough time." - August 31, 2021


- "I really appreciated this session. Taking dedicated time to grieve was super helpful and the therapist had very helpful suggestions for next steps." - August 1, 2021
- "I found the session very helpful. Angie gave me strategies that made sense to me and that I will definitely try. She gave me permission to feel my loss but in a more productive way, and I thank her for that." - July 28, 2021


- "I was debating between attending a group or signing up for an individual session. I decided to go with individual. It was really nice and Kristi was supportive and nonjudgmental. Thank you." - April 28, 2021


- "Just perfect. Even though by the end of the hour I was wiped out, just hearing the supportive words not only from Kristi but the other woman in the meeting was so helpful. To realize that I am not alone in my feelings and that my emotions are valid is so helpful in the healing process. Thank you so much for such kind and compassionate facilitators like Kristi and Katie.I really can't think of anything to say to improve the session. Just keep doing what you're doing because there are so many people out there that need your help and support." - April 22, 2021


- "Thank you to Dr. Lawlor for her understanding, kindness and empathy. I woke up this morning with a kind of lighter feeling then in the past three months. Dr. Lawlor validated for me that the guilt I was experiencing was primarily self manifested & to focus on the fact that I did everything humanly possible for my precious Penny & that Penny knew that. It helped hearing this from someone who is unbiased and professional and who is a specialist in dealing with pet grief and loss. So thank you again for helping me. It was a very beneficial experience." - April 20, 2021
- "Really appreciated the grounding at the beginning and the tips Kristi gave us about grief. Felt safe. Thank you!" - February 5, 2021


- "I felt so comfortable with my facilitator that I booked a private session with her." - January 23, 2021


- "Dr. Lawlor was excellent in making all of us feel welcomed, supported, and understood. I'm so glad I was able to participate in this group." - January 19, 2021


- "Katie was terrific - She had exceptional insight and her comments were most helpful. I am very glad I had the session - and I will continue with others." - December 15, 2020


- "This was an amazing meeting with two wonderful women. I am so incredibly appreciative that this group exists and the facilitators do what they do. Thank you so much for existing." - October 22, 2020


- "Thank you for this space. It was very validating and lots of great tips shared that will help me moving forward." - August 16, 2020


- "It flowed well." - August 7, 2020


- "I felt that the group was well run. Angie was excellent with everyone. Whether the grief was from recent death or from loss several years ago, the story of the pet and the circumstances of the loss were brought to light. Coping with loss were discussed. It was so helpful since waves of grief were occurring at unexpected times. Wendy was also helpful." - May 26, 2020


- "Andria did a great job with facilitating the pet loss grief group. Best wishes to you in your endeavor to help hurting pet parents heal!" - May 25, 2020


- "Love Animal Lover's Bill of Rights. Registration was very user friendly. Group guidelines helped to understand how the session would be run. Felt that it was a "safe space" for talking about my loss of my standard poodle Morgan a few days before the session." - May 19, 2020


- "Everything went great. I was happy to be included and to share my loss." - May 5, 2020


- "I thought it was fabulous with a GREAT facilitator!" - May 4, 2020


- "I thought that Andria did an excellent job in welcoming and engaging the members throughout the session. We each had such differing experiences and Andria was able to link them together well. I found that the group was information and also nice to connect with other surrounding their losses. Overall, it was a very powerful experience and I am so glad that I got to be a part of the safe sharing circle." - May 4, 2020