In our effort to help VetVine Members "work smart, live well," we look forward to sharing more about essential oils and how they can be incorporated into a healthy lifestyle and wellness plan for people and pets. Browse and purchase essential oils or become a Member (several of our staffers have). Start enjoying the benefits of essential oils and maximizing your and/or your pet's physical and emotional well being.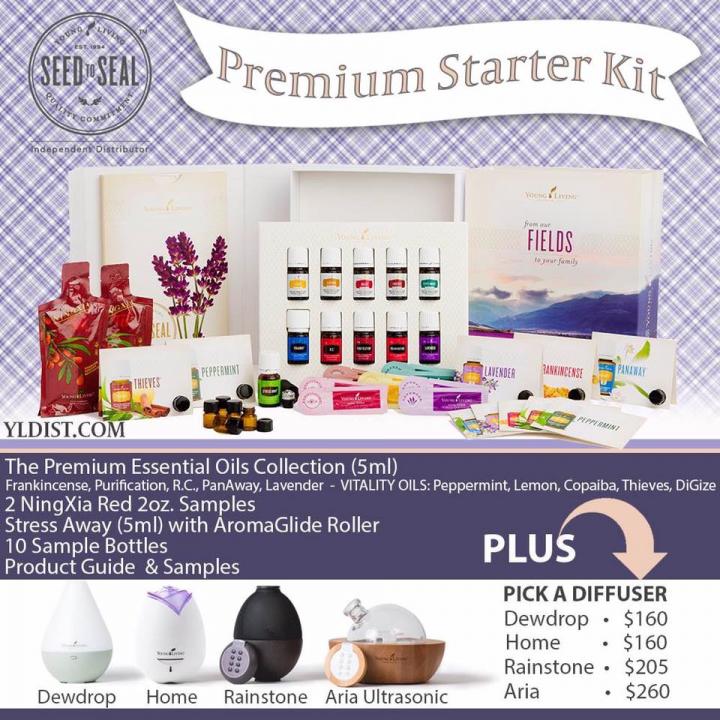 We recommend starting with a Premium Starter Kit which contains essential oils that you will find most useful and beneficial for beginning to explore their benefits. The kit includes:
10 - 5 ml bottles of exclusive essential oil blends and single oils including: Lavender, Lemon Vitality, Peppermint Vitality, Frankincense, Copaiba Vitality, Thieves Vitality, PanAway, R.C., Purification, DiGize Vitality, plus a

Bonus - a 5 ml bottle of Stress Away

A DIFFUSER - choose from 3 Diffuser options

AromaGlide Roller Fitment (you can put this roller ball on any size bottle of essential oil)

2 packets of Ningxia Red

10 - Mini dram bottles - to carry smaller amounts or to share as samples

10 - Sample packets of oil (including a sample of Peace & Calming)

You'll enjoy 24% off retail prices FOREVER as an active member

The option to earn reward points on everything you order

A Product Guide

To Sign Up:
2) Choose Membership Option: MEMBER to save 24% on your purchases
3) Enroller and Sponsor # - if not auto-populated, enter 3840403

4) Enter your personal information
5) Choose your Premium Starter Kit (it's required to get started as a Wholesale Member)

FAQs
Why become a Young Living Wholesale Member?
To enjoy the benefits of essential oils and other products at a 24% savings on every order. There is no monthly minimum purchase or annual fees. There is no obligation to distribute or promote these oils.
Do I have to purchase more oils after my Premium Starter Kit?
No. There is no ongoing obligation or commitment (though we think you will after experiencing the benefits of these products). If you do, you'll save 24% on every future purchase.
I don't want to sell Young Living products - why should I become a Wholesale Member?
"Wholesale Membership" is the only option for saving 24% on purchases. You are not required to ever sell or promote these products. If you ever do decide to sell or promote Young Living products, you can earn commissions through the business opportunities that Young Living offers.
Have more questions? Contact Us