VetVine presents Ecolife Expeditions - a 14 days hands-on experience in South Africa for veterinarians and veterinary technicians
The American Association of Veterinary State Boards RACE committee has reviewed and approved the program referenced above as meeting the Standards adopted by the AAVSB.
This program 1015-22747 is approved by the AAVSB RACE to offer 20.00 CE Credits to any one Veterinarian; and/or Veterinary Technician. This program is also well suited as a continuous education program for Veterinary Nurses, Veterinary Technicians and Veterinarians in other countries

Purpose and objectives of the program:
The purpose of this program is to provide an opportunity for practicing veterinarians to learn about, experience and participate in wildlife management and health interventions in free roaming wildlife populations in Africa. This also forms the basis of understanding the spread and management of wildlife diseases. An additional objective is to provide an opportunity to learn and experience in Africa a different side of veterinary science that can broaden one's outlook and support professional development.
Participants:
All practicing veterinarians, veterinary technicians, and veterinary nurses.
Provider:
EcoLife Expeditions has been providing quality university-accredited wildlife education travel programs for over 20 years. We are experts in imparting hands-on wildlife conservation, management, and veterinary education. We are excited to invite you to experience our country in a program designed exclusively for professional veterinarians, veterinary technicians and veterinary nurses.
South Africa – An Overview
South Africa is one of the most diverse and enchanting countries in the world. Fascinating combinations of landscapes, people, history, wildlife and culture offer a larger-than-life experience for the traveler in search of a truly unique and inspiring experience.
South Africa's vast landscape includes savannahs, snow-covered mountains, forests, tropical swamps, endless beaches, tranquil rivers and bustling urban epicenters. South Africa is known for its abundant wildlife (including the famous "Big Five") as well as its fantastic birding and eco-tourism possibilities.
However, the real heart of this vibrant country is the diversity of people and cultures. Many of the cultures have their roots in an ancient world, whilst some are relatively new – and others, well, are a fascinating mix of both. South Africa's family tree goes way back to the start of time. The country has been touted as the Cradle of Humankind, because it was here that archaeologists discovered 2.5-million-year-old fossils as well as the 100,000-year-old remains of modern humankind.
2017 Expedition Dates:
- Aug 27 - Sept 9
- Sept 10 - Sept 24
Program Itinerary
Day 1:
WELCOME TO SOUTH AFRICA!
Upon arrival at Johannesburg International Airport you will be welcomed by EcoLife staff and transferred to the Ostrich Manoron a private nature reserve. A walk on the beautiful reserve grounds is recommended for stretching the legs after the flight, and following a sundowner beverage we will be ready for a welcome dinner. We will have an informal orientation talk at the campfire and share information about the program for the next couple of days.
Accommodation: Lodge
Day 2:
After breakfast we start the day with two talks by your program director and former director of the Center for Wildlife Management at the University of Pretoria, Dr. Wouter van Hoven. The first will address Rhinoceros and wildlife management/conservation and the role of veterinary science. The second will explore Elephant management and the role of the veterinarian in population control.
(2 CE credits)
We then depart for the Onderstepoort College of Veterinary Science of the University of Pretoria, where we will be met by Dr. Richard Burroughs, Director of the Centre for Veterinary Wildlife Studies. He will welcome us and lead a short tour of the facilities before lunch. After lunch he will present a talk on Priorities in and the handling of clinical wildlife veterinary cases, where after we move to the Veterinary Genetics Laboratory where we will be received by Dr. Cindy Harper, Manager and Head of the laboratory. She will present a talk on Maintaining wildlife genetics integrity and the functioning of the Wildlife Veterinary Genetics Laboratory, followed by a tour of the facility. (2 CE credits)
Accommodation: The Ostrich Manor - Lodge
Day 3: Today we meet Dr. Morné de la Rey, a veterinary surgeon and wildlife embryo transfer specialist. Dr. de la Rey produced the first Sable Antelope calves by means of Fixed Time Artificial Insemination with frozen thawed semen, and five years ago produced the first Sable Antelope calves born by means of embryo transfers in the world. In 2013, he produced the first pregnancies in the world in Cape Buffalo by means of embryo transfers. In the early morning we will first dart a white rhino and then participate in semen collection. Dr. de la Rey will take us on a demonstration tour of his wildlife embryo laboratories and also present us with a Lecture on the wildlife conservation value of successful in vitro fertilization and embryo transfers. (All activities and lecture total 5 hours / 3 CE credits)
Accommodation: The Ostrich Manor - Lodge

Day 4:
After breakfast we travel to Skukuza Camp in Kruger National Park. We will be travelling through some beautiful scenery and our guide will explain features as we reach them. We should arrive in the early afternoon, check in and have enough time for a leisurely drive for wildlife viewing before dark.
Accommodation: Bungalows – Skukuza Rest Camp
Day 5:
In the morning we rise early and travel through the southern part of the park to visit well-known Ralf Kalwa, a veteran Kruger ecologist who has an intimate understanding of this majestic five-million-acre park. In his informal way he will first explain the management of wildlife and particularly the overpopulation of elephant in Kruger National Park and thereafter the management of vegetation ecology to the benefit of wildlife health in Kruger National Park.
After lunch we will leisurely drive back to base while viewing the many wildlife species with ample opportunity for photography. After dinner a night drive will be available for those not too tired. Spot lights will be used to see the nocturnal species.
Accommodation: Bungalows – Skukuza Rest Camp

Day 6:
Today we visit the department of Wildlife Veterinary Services in Kruger National Park, at park headquarters in Skukuza. The head of the department will present a talk on the scope of their work in running Wildlife Veterinary Services in Kruger. Because of the nature of their work, anyone can be called out at any time and we could be assisting with any cases that do come in during the day. Depending on activities of the day a second talk is scheduled on Disease control and eradication. (2 CE credits)
Accommodation: Bungalows – Skukuza Rest Camp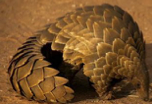 Day 7:
After breakfast we will travel at ease through the park in a northerly direction, viewing the great variety of wildlife and the varying biomes of Kruger National Park in the northern districts. We later settle in at the Bush Wildlife Disease Laboratory in the Balule District of Greater Kruger Park. Your host at this remote camp is Cornell Vermaak, B. Tech, M. Tech, Tropical Parasitology (Duke University) Wildlife Disease Ecologist and Veterinary Microbiology graduate from Onderstepoort, University of Pretoria. You will be greeted by his array of friendly camp wildlife, such as the cheeky meerkats and a wandering wildebeest.
In the evening we will be informed about the bush camp, laboratory orientation and rehabilitation animals. Because of the remote location, comfortable tent accommodation will be provided. The area is also very good for bird watching along the Elephant River. And you may very well hear roaring lions and hooting baboons in the night from the safety of your tent!
Accommodation: Permanently erected tents
Day 8 & 9:
Talks, demonstrations, participation and learning about the veterinary side of wildlife management. We start with the red line and enzootic area management, followed by Diseases shared by livestock and wildlife and zoonosis in the region and Applied wildlife parasitology.
Next is Wildlife post mortem and necropsy procedures,taking place in the bush, and upon return samples will be used in demonstrations and participation in bush laboratory procedures. (Lectures and activities total 5 CE credits.)
Accommodation: Permanently erected tents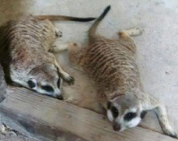 Day 10:
We depart early and travel to a rural African community cattle coral outside of the public protected areas. We are guests of the chief and are here to participate in the diagnostics, treatment and management of cattle as a social responsibility. In the afternoon we drive to the Moholoholo Nature Reserve, where we check in to the Moholoholo Lodge.
Accommodation: Chalets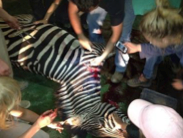 Day 11:
Today we will visit the nearby Moholoholo Animal Rehabilitation Centre, well known for its conservation of species and the rehabilitation of injured or poisoned wildlife, as well as its successful breeding programs. Here you will get up close to a variety of species.
We will stop for lunch and some souvenir shopping in Hoedspruit, then return to the Moholoholo Lodge. After lunch we start with our introductory lecture on wildlife capture techniques with Mr Andre Pienaar, a senior veterinary technician with 20 years of big game capture experience.
Accommodation: Chalets
Day 12 & 13:
The next two days will involve discussions, demonstrations and hands-on participation in actual game capture operations of various wildlife species for purposes of relocation, tagging, diagnostics, vaccination and disease or injury treatment. This will be done by Mr Andre Pienaar and his Veterinarian assistant. No animals will be captured for demonstration purposes; all activities will be actual needed actions, the nature of which is often determined on an on-call, same-day basis. (All game capture activities and lectures total 6 CE credits.) Each program participant will have the opportunity to go individually in the helicopter for a flight and firing at a moving target (non-animal). We return to the Moholoholo Lodge in the afternoon and get into the swing for a farewell bush dinner and graduation ceremony.
Accommodation: Chalets – Moholoholo Lodge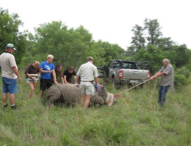 Day 14:
After breakfast your EcoLife guide will return the full group to the airport in time for their flights home after lunch time.
**Please note that items in the program itinerary are subject to change**